Area Guides Costa Del Sol
Southern Spain's Costa del Sol is one of the most popular travel destinations in Europe, the area is renowned for it's blue flag beaches, a near perfect climate with 300 days of sun shine each year, the tranquil Mediterranean sea, relaxed atmosphere and excellent food.
Tourism is one of the primary industries on the Costa del Sol with millions of visitors choosing to visit each year.  This unique coastline extends for 150 kilometers alongside the Mediterranean sea, but has lots more to offer than simply lounging on the beach.
The Costa del Sol is home to the most golf courses in one area in the whole of Europe.  Golf holidays on the Costa del Sol have become increasingly popular over the last 20 years as there are over 60 top class golf courses to choose from.
The five main holiday resorts on the Costa del Sol are Fuengirola, Torremolinos,  Benalmadena, Estepona and the luxury sun kissed resort of Marbella.
The Costa del Sol gets some of the hottest weather in the nation with an average temperature of 26°C in August for example and with around 300 days of sunshine a year, enough to please the most hardened sun worshiper.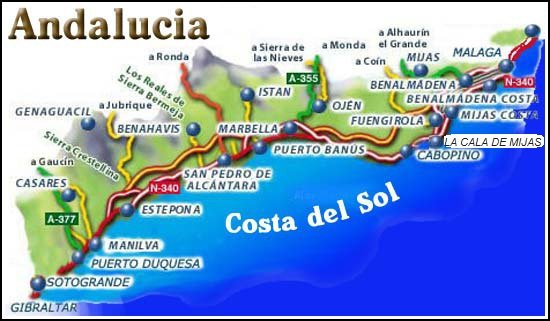 Soak up the rays
Relax at one of the many top beaches with soft, golden sand stretching for miles backed by promenades full of bars, restaurants and shopping. Immerse yourself in culture.  Spend a day in Malaga, Picasso's birthplace, with an influential contemporary arts scene, museums, and historic old town.  Spot Celebs in Puerto Banus: Wine, dine, and celebrity watch at the Costa's most luxurious port, filled with million-dollar yachts, world-class restaurants, energetic bars and high fashion boutiques.
Get in touch with nature
There are the many national parks around Malaga province where visitors can go hiking, caving, wild swimming, ATV driving and horseback riding.  On the Costa del Sol, golf can be enjoyed year round amid views of the Mediterranean Sea and mountains on some of Europe's most celebrated Costa del Sol golf courses including  La Quinta, Marbella Golf, La Reserva, Malaga Parador, Los Naranjos, Santa Clara and many more, each offer excellent golfing possibilities.
Party all night
The Costa del Sol has a huge selection of bars and clubs with a vast and varied night-life scene.  Each town has its own flavour ranging from laid back and fun, to chic and sophisticated. Regardless of your idea of a night on the town, you will find the right venue on the Costa del Sol.
5 Interesting facts about the Costa del Sol:-
Andalucia is one of Spain's premier wine producing areas.
Renowned artist Pablo Picasso was born in Malaga in on the 25th October 1881.
Dolphins are a major feature of the waters along the Costa del Sol and there are many options to see these wonderful creatures.
Malaga is home to Antonio Banderas, one of Hollywoods top movie stars.
Fashionistas will have the chance to shop 'til they drop in the Costa del Sol thanks to a huge choice of designer outlets in some of the best shopping malls in Spain.
MARBELLA
Marbella is well known as the playground for the rich and famous, offering a cosmopolitan vibe and a well preserved Andalucian history sat alongside the beautiful Mediterranean Sea.
This chic resort is a favourite among the wealthy who frequent the world-class restaurants, luxury hotels, championship Costa del Sol golf courses, fashionable boutiques, the opulent Puerto Banus marina as well high end restaurants and vibrant nightclubs.
You can't fail to be impressed strolling along the quayside in the famous Puerto Banus Marina where million dollar yachts bob in the harbour.
FUENGIROLA
Fuengirola is a friendly town  featuring a long promenade and beach front, vibrant bars, excellent restaurants, tapas bars, trendy boutiques and eight beaches. There are plenty of sun loungers and sun shades to rent for the day.
This popular holiday destination is a firm favourite with families with it's numerous beach bars and restaurants (chiringuitos) located all alone the busy sea front which is around 8 kilometers long  from the eastern end of Carvajal to Sohail Castle at the western end.
BENALMADENA
Benalmadena offers a multitude of beaches ranging from secluded coves to the action packed Blue Flag Santa Ana Beach with a bustling promenade. Visit Benalmadena Pueblo's quiet streets and marvel at the old town vibe, shop and dine in the Arroyo de la Miel area.
You can also get your adrenaline pumping at Tivoli World theme park or ride the cable car to the top of Calamorro Mountain, the nightlife scene is also popular in Benalmadena as it is filled with pubs, bars and clubs, for a great night out head to the award winning Benalmadena Marina.  Also, you need to visit the Beautiful Massive Parque de Paloma with it's lakes and roam free wildlife, just up from the Windmill Roundabout.  An absolute pleasure for families.
TORREMOLINOS
Torremolinos is one of the most popular holiday destinations on the Costa del Sol, much loved for its 9 kilometers of quality beaches.  For local fish restaurants head to the popular La Carihuela distric which is packed with fish and seafood restaurants and beach bars.
The pedestrian shopping street, Calle San Miguel, is lined with trendy boutiques and chic shops with a variety of tapas bars and restaurants.
MIJAS COSTA
It is in the centre of the Costa del Sol in southern Spain and stretches 12km along the Mediterranean coast from Cabo Pino in Marbella in the west to Fuengirola in the east.
What's Mijas Costa like?
Mijas Costa is one of the largest resorts on the Costa del Sol and home to some of the most popular places to buy property in southern Spain. The following developments, (known as urbanizaciones in Spanish) are found in Mijas Costa:
Calahonda – the largest residential area in Mijas Costa and almost a resort in its own right, Calahonda is very popular with holidaymakers and foreign residents.  It stretches from the coast (the beach has blue-flag status) to high in the hills, north of the AP-7 toll road. A wide variety of property is available from studio apartments to luxury villas, and many homes have panoramic sea views. Services, located mostly around the A-7 road, are good with a range of shops including several supermarkets, banks and restaurants. Sports facilities include La Siesta Golf Club and Club del Sol tennis club.
Riviera del Sol and Miraflores – Like Calahonda, these two areas are popular with foreign residents and holidaymakers.  Properties in Riviera del Sol mostly consist of apartments and townhouses while Miraflores has several high-end townhouse and villa developments.  There's a selection of small shops, bars and restaurants near the A-7 road. Miraflores Golf and El Oceano Beach Club and Hotel are also located here.  Also, the new classy Max Beach Club on the beach of Riviera del Sol.  The lovely Diana Park area to walk your animals and play area for your kids etc.  Abundance of amenities all around.
La Cala de Mijas – this small town is the main services and administrative centre for Mijas Costa. Once a tiny fishing village, La Cala has grown into a popular place to live and has a population of around 4,000 people.  It boasts the best beaches in this part of the Costa del Sol, schools, medical centres and a range of shops and restaurants.
A choice of property is available from traditional village houses and front-line beach properties to modern penthouse apartments.  Several new developments are currently underway to the north of the town centre (apartments), (townhouses), (villas).   La Cala is within easy reach of some of the best golf courses on the Costa del Sol including Calanova Golf Club and the three courses at La Cala Golf Resort.
El Chaparral and Las Farolas – the residential areas between La Cala de Mijas and Fuengirola are smaller than the rest of Mijas Costa.  The two largest are El Chaparral, an area with mostly villa properties and home to El Chaparral Golf Club, and Las Farolas, situated near the lighthouse with townhouse and small villa properties.  Services are limited although La Cala and Fuengirola are both within a short car journey.
ESTEPONA
Estepona is the Costa del Sol's most westerly resort and lies 75 km from Malaga airport at the foot of the Sierra Bermeja mountains.  Once a small fishing village Estepona has developed as a mainly Spanish resort offering more traditional holiday experience than in its more glamorous neighbours further along the coast.  Estepona is a perfect resort for families and people looking for a quiet holiday away from the busy nightlife.  With a population of 70,000, Estepona is one of the few coastal towns that has succeeded in maintaining its pueblo charm and character.  Notwithstanding, all the tourist facilities are here, including hotels, restaurants, leisure and cultural activities, and shops.
The numerous street cafes and tapas bars still serve traditional Spanish delicacies. In the 'old town' the steep, narrow streets are pedestrianised and decorated with different colour flower pots.  It is a delight for photographers.  You will find bars and small shops in Estepona, where you'd least expect them, all very inviting and friendly.
SAN PEDRO DE ALCANTARA
San Pedro de Alcántara is in an ideal situation, just 10 kilometres west from all the glitz and glamour of Marbella, yet just a few minutes drive away from the natural beauty of the Sierra de Ronda mountain range and 20 km from the town of Estepona.  An ancient farming community, once famous for sugar cane, today San Pedro is a refreshingly unspoilt pueblo with an appeal all of its own.  Be sure to head for the Plaza de la Iglesia with its gracious parish church and surrounding narrow streets which are packed with intriguing small shops, sidewalk cafes and bars.  Thursday is street market day with all the associated hustle and bustle; a veritable bargain shopper's paradise. At the lower end of Calle Marques del Duero sitting on top of the main coast road (in a 3km underpass) is the Boulevard park.
NUEVA ANDALUCIA
Nueva Andalucia is the largest neighbourhood in Marbella, extending over several square kilometres.  It has an official census population of about 15,000 but considerably more residents in the summer.  It was created by Madrid developer José Banús Mas, who came to Marbella in 1962 and acquired the land.  Construction of Puerto Banús began in 1965, it was inaugurated in 1968, and the main infrastructure of Nueva Andalucía was installed shortly afterward.  The area continued to grow until 1989 - and again in the 2000s.
The key attractions today are the large residential estate, reasonable access to the highway and Marbella and, for many, a short taxi ride home from the Puerto Banús nightlife.  Being a large residential area it has plenty of small commercial centres and restaurants for those who don't want to venture out on a rainy or sunny day.  Others find it too large and soulless; visitors can become frustrated or lost in the maze of tree-lined residential avenues which are confusingly either code-numbered (e.g. Calle 19B) or named in the normal way.  This is not to mention the overlay of "supermanzana" urban layouts.  It is, however, reputed that some residents appreciate the anonymity of the place.
PUERTO BANUS
Puerto Banus is located in the Nueva Andalucia suburb of Marbella, 6km to the west of the town centre, just before you reach the small town of San Pedro de Alcantara.
Although it may at first appear as a developed old Spanish fishing village with an impressive mountain backdrop, Puerto Banus was in fact designed and built in 1970 by local property developer José Banús as a luxury marina and shopping complex.
Puerto Banús is known as Costa del Sol's playground for the rich and wealthy that come here for the beaches, the beach clubs and the buzzing nightlife.  The shops and restaurants reflect this expensive lifestyle, with plenty of designer names on offer around the marina.  If you enjoy people-watching and are there during the summer months you'll never be short of popstars or reality TV stars to spot. If sports cars and big boats are more your thing there are plenty of Ferraris and luxury yachts to admire.
BENAHAVIS
Benahavis is a stunning inland, small whitewashed town that is surrounded by a natural parkland.  Just 7 km inland from the coast and it's many beaches this is a real unspoilt getaway.
Known for its peace and quiet (the population is just under 6,000), deep well of charm and breathtaking beauty, it has become a popular destination among those who like to take a leisurely stroll or a momentary escape from the hustle and bustle of life.  Benahavis is the most mountainous village on the Western Costa del Sol. It is situated midway between the towns of Marbella and Estepona, near the beautiful Sierra de las Nieves. With a terrain that is traversed by the Rivers Guadalmanza, Guadaiza and Guadalmina, traveling to Benahavis is no doubt "as close to paradise as you can get."
CASERAS
Casares Playa is a peaceful, relaxing location 15km from the town of Casares which lies inland on the steep hillside and is a typical, pretty Andalucian white village, untouched by the mass tourism of the Costa Del sol.
There are numerous new developments along this beautiful stretch of beach, some of which have amazing views of Gibraltar and the North African coast.  There are shops, golf and amenities nearby or a short drive to Estepona can provide more facilities if required.  The 2km beach offers a tranquil place to spend time while there are a couple of good golf courses close by all set in a beautiful, natural environment surrounded by two natural parks of the Sierra Bermeja and Sierra Crestellina.
Casares Playa is the ideal choice for buyers requiring a quiet location in beautiful, natural surroundings, accessible but 'away from it all'.  This area offers excellent value for money and often more spacious properties than you find in the more popular resorts of the Costa del Sol.  Gibraltar is the closest airport only 36km away but Malaga is still very accessible,  especially using the AP7 motorway.
MANILVA
Manilva is divided in 3 parts: Manilva Pueblo that is located up on the mountain; San Luis de Sabinillas and La Duquesa that are located by the coast.
Manilva Pueblo is a genuine Spanish mountain village with a wine museum and other things. San Luis de Sabinillas is a coastal part with about 80% Spanish residents living here.
Manilva is a good place for families.  It is also a very good place for golfers and many golfers have apartments here and also many golfers rent here because we have 12 good golf courses within a radius of 10km.  Among them top European and top Spanish courses like Valderama, Finca Cortesin, Sotogrande Reserva, Dona Julia, Alcaidesa Links etc.
LA DUQUESA
La Duquesa has a famous and cosy international port with many restaurants and some night clubs. There is also a genuine Spanish fishing village with mostly seafood restaurants.  La Duquesa is mixed and the foreigners are in majority there.  Duquesa, as it is known locally, enjoys an advantageous location to the west of Marbella .  The essence in this distinction is that the area retains a vast amount of unspoiled natural scenery and authentic local character - while sharing the fantastic climate of the rest of the Costa del Sol.
PUERTO DE LA  DUQUESA
It is one of the Costa del Sol's marinas that is enjoyed by sailors and tourists alike.  Located one hour's drive from the airport of Malaga and 45 minutes form Gibraltar airport.  La Duquesa seems like a thousand miles away from the throng of the holiday resorts.  It is relatively quiet during most of the year.  The restaurants come alive in July and August.
The beautiful port of Duquesa offers full Marina services for boating enthusiasts as well as a myriad of attractions for those with no aspirations to take to the water.  For those that do, a number of companies offer Jet Boat, Wake Board, Boat trips and Scuba Diving.  The attractive promenades surrounding the port offer a variety of restaurants, intimate bars and cafes.